Beyond the ski hills of South Georgian Bay are some of Ontario's most pristine freshwater beaches. Stretching from Meaford to Wasaga Beach are numerous beaches where you can canoe, kayak, swim, stroll the shores of Georgian Bay or simply enjoy the sunshine.
Listed below are the beaches and amenities at each area to make planning your day at a South Georgian Bay beach easier.
With over 14kms of white sand beach, Wasaga Beach has long been hailed one of Ontario's premier tourist destinations. Here you can swim in shallow, warm, clean waters and enjoy the beautiful view of the mountains across the bay. Wasaga Beaches # 1, 2 & 5 are the first provincial park beaches in Canada to be awarded the "Blue Flag" designation for its clean, accessible beaches. For more information on this high safety standards eco-certification please visit Blue Flag. Because of its size, Wasaga Beach has been divided into six smaller beaches, as well as New Wasaga Beach, that has been divided off by beaches 1-6 by the Nottawasaga River. Further north is Allenwood Beach.
Beach Area 1 is the 1 busiest section with boat launch, swimming, bike paths, events, boardwalk, fishing platforms, shops, restaurants and bars overlooking Georgian Bay.
BeachArea2–swimming, boardwalk, picnic areas, bike paths, playground, parking. Nancy Island Historic Museum is on Mosley Street and 3rd Street N at Beach Area 2.
BeachArea3–swimming, picnic areas, bike paths, parking, temporary dog friendly beach area and office for Wasaga Beach Provincial Park.
BeachArea4–swimming, picnic areas, playground, bikepaths, parking. This is a quieter area.
BeachArea5–swimming, picnic areas, bike paths, parking, playground, washrooms.
BeachArea6–swimming, picnic areas, parking, washrooms.
New Wasaga Beach–swimming, parking washrooms.
Allenwood Beach–swimming, parking washrooms.
Sunset Point Beach – Collingwood
Boasting the best fries in town, Sunset Point Beach is in Collingwood's east end just off Pretty River Parkway. It features a rock beach and large green space for biking or walking, Adjacent is Enviro-Park – an eco-themed playground enjoyed by young families.
Amenities include: Pavilion, green space, trails, Enviro-Park, snack bar, picnic area, washrooms, free parking,
Address: 79 St Lawrence St, Collingwood
Harbourlands & Millenium Park, Collingwood
This pristine park has no beach offering but is a popular place to jump off the pier into Georgian Bay. It is part of a vast waterfront area that include the Collingwood terminals. It offers both paved and natural trails for biking and walking.
Amenities include: public boat launch, pet friendly, trails, picnic area, washrooms
Address: 2 Water St. Collingwood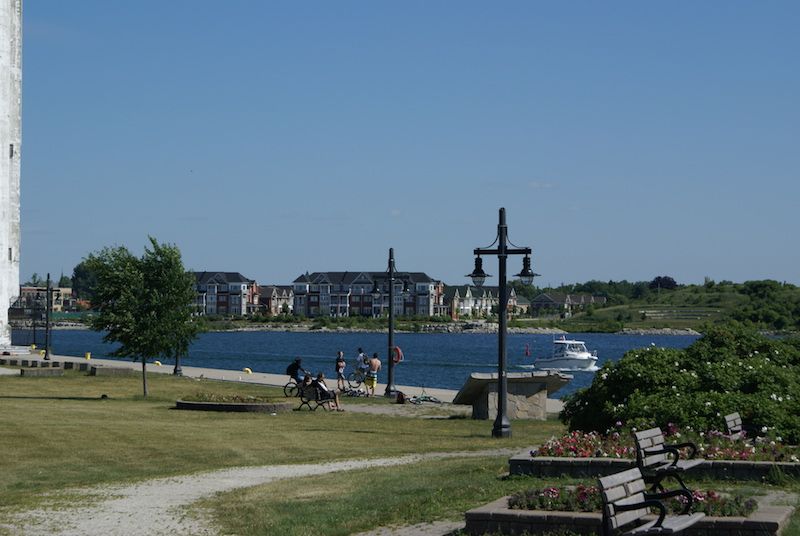 Northwinds Beach – The Blue Mountains
Located across from the Heritage Depot in Craigleith on Highway 26, Northwinds Beach is a beautiful sandy beach. Located onsite is a non-motorized watercraft rental kiosk making this area a popular spot for kayaking, canoeing, windsurfing and stand up paddle boarding. Paddle board excursions to Mary Ward Shipwrecks are offered by Eagle Adventures and Free Spirit Tours and Blue Surf offers paddle lessons.
Amenities include: Sandy beach, green space, playground, boat launch, parking, snack bar, pet friendly, picnic area, non-motorized boat rentals, swimming, shade and walking distance to stores and coffee shop
Address: 209425-209601 Highway 26, The Blue Mountains
Council Beach – The Blue Mountains ( Camperdown)
With views of the ski hills and Georgian Bay, this sandy pebble beach also offers swing sets, picnic tables and a portable toilet.
Amenities include: Waterfront, picnic tables, swing set, pet friendly, parking and washroom
Address: 105 Lakewood Dr, The Blue Mountains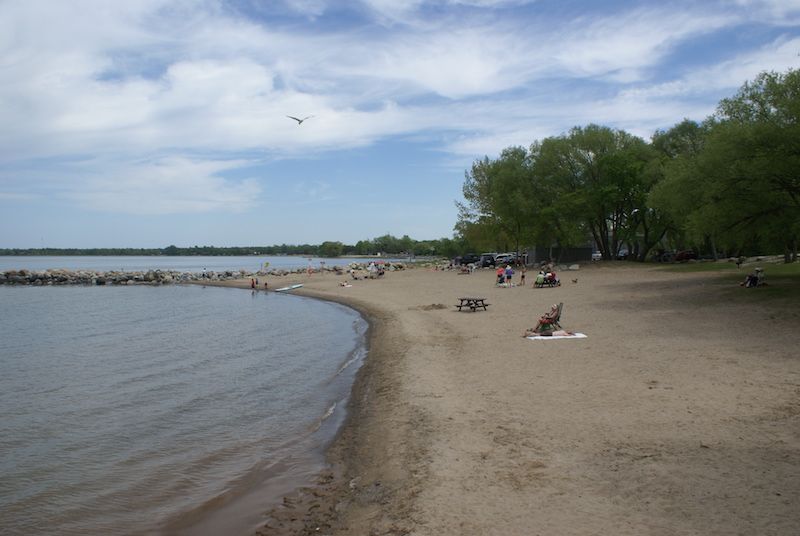 Little River Beach Park – Thornbury
This pebble beach waterfront park is extremely popular with beach goers. It features a playground and a pier that is a great place to jump off into Georgian Bay. It is located within walking distance of the downtown Thornbury shopping area.
Amenities include: Pebble waterfront, playground, picnic tables, pier access, greenspace and washrooms
Address: 4 Harbour St, Thornbury
Lora Bay Beach – Thornbury
This sandy beach is located within a cove for protected swimming, kayaking and paddling, It is a small quiet beach just past the Lora Bay Golf Club
Amenities include: Pet friendly, sandy beach, picnic area, parking and washrooms
Address: 373 Sunset Blvd, Thornbury
Bayview Park – Thornbury
This family & pet friendly park features a pebble beach & playground. It is one of Thornbury's favourite picnic areas because of its large covered pavilion and beautiful greenspaces. It is ideal for large family reunions, weddings and social gatherings.
Amenities include: Green space, trails, pavilion, picnic tables, playground, shuffleboard court, tennis courts, volleyball courts, washrooms & parking
Address: 106 Bay St E, Thornbury
Christie Beach – Meaford to Thornbury off Highway 26
Boasting an incredible view of Georgian Bay's natural landscape is this quiet, sandy beach. It features shallow water that is perfect for families and young children. The beach stretches from Meaford to Thornbury at the end of Christie Beach Rd
Amenities include: change rooms, washrooms, a playground with picnic area, parking and is pet friendly
Address: 101 Sunset Blvd, Thornbury
Memorial Park – Meaford
A picturesque park & campground, Memorial Park, features 468 metres of beach with a ton of amenities. It features ample free parking, a pet friendly environment with a portion of the beach dedicated to dogs, picnic areas with a snack bar and 135 fully serviced campsites.
Further amenities include: Mini golf course, playground area, two pavilion shelters, woodland walking trails & sand beach
Address: 179 Grant Ave, Meaford
David Johnson Park – Meaford
Adjacent to the Marina in Meaford, is David Johnson Park. This quiet beach features a mobi- matt allowing those with mobility challenges to access this waterfront location.
Address: 125 Fuller St, Meaford
Fred Raper Park – Meaford
Minutes from Meaford's downtown district is this smooth pebble beach. It is the hub of waterfront activities and features a wooden ship play structure with swings on one of the two public beach areas.
Amenities include: Playground, gazebo, picnic tables, free parking and washrooms
Address: 207 Bayfield St, Meaford
McCarroll Park and Beach – Meaford
Located next to the Meaford Museum, McCarroll Park features a splash pad, picnic area, washrooms, a beautiful green space and parking
Address: 210 Parker St E, Meaford