LOCAL FRESH! There are many Farmer's Markets in Southern Georgian Bay scheduled from May long weekend or first week of June to Thanksgiving. Local markets are scheduled on different week days so you can shop them all!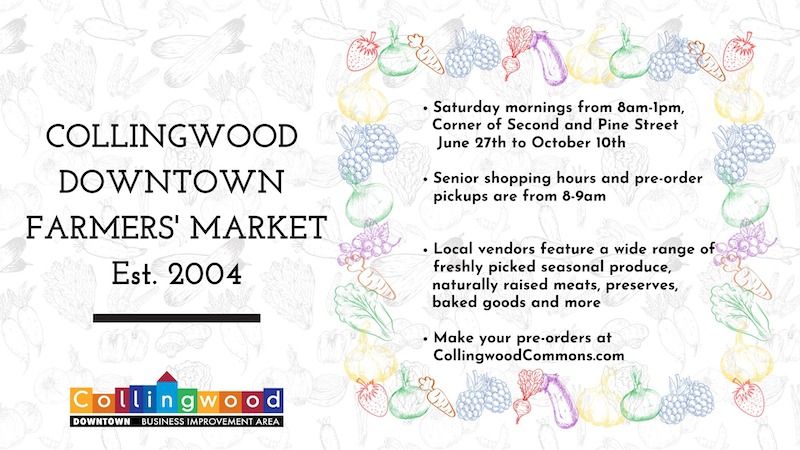 Collingwood Farmers Market
Every Saturday from 9:00 a.m. – 1 p.m.
Corner of Second and Pine Streets, Collingwood
If you're heading to the Collingwood Downtown Farmers' Market please remember your mask 😷 as they are mandatory! 🍓🥒🍩 #ShopLocal vendors of organic vegetables and fruit, baking, meats and cheeses, flowers and trees, jams and preserves, handcrafted items and more.
You can pre-order at www.CollingwoodCommons.com
It's open at 8 a.m. to 9 a.m. for pre-ordered items and seniors, and will continue to 1 p.m. 📍 located in the municipal parking lot at the corner of Second and Pine Streets.🐕 Please leave your dog at home as they are not allowed in the market. See you there, Collingwood! Stay up-to-date on their Facebook Page CollingwoodFarmersMarket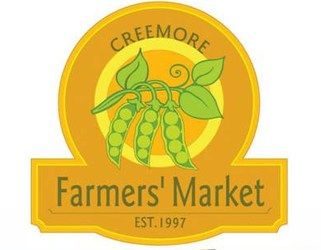 Creemore Farmers' Market
Every Saturday 8:30 a.m. – 12:30 p.m. Victoria Day to Thanksgiving
New Location:
Creemore Springs Brewery
Corner of Mill and Edward St
2020 Update: Order in advance for pickup or shop in person.
Www.openfoodnetwork.ca/groups pick Creemore Farmers' Market and then find your vendors.
Stay updated: https://www.facebook.com/CFM.marketmanager/
Winner of the 2001 Market of the Year, the Creemore Farmers' Market aims to bring new experiences to it's customers. Check out the selection of local vegetables, fresh baked goods, honey, syrup, meat, plants, crafts, and much more directly from producers that care. www.creemorefarmersmarket.ca
Stay up-to-date on their Facebook Page
Thornbury Farmers Market 
Every Sunday from 11 a.m. – 1 p.m.
30 Mill St. Thornbury
2020 Update:
Order online and pickup your goodies at Smith Memorial parking lot  Sunday between 11am – 1pm! https://www.localline.ca/thornbury-farmers-market
Fresh seasonal vegetables and fruit – including organics, baking, deli meats, frozen entrees & desserts, maple syrup, local honey,  jellies, cut flowers, local crafts and more.
Look for the market along Hwy. 26 beside the The Blue Mountains Town Hall.
Stay up-to-date on their Facebook page Thornbury Farmers Market

Meaford Farmers Market 
Every Friday from 3-7pm
1 St. Vincent St. Meaford Marina Park
2020 Update:
The Meaford Farmers' Market is temporarily closed due to COVID-19, however, you can still enjoy farm fresh and local products by placing orders with our vendors. Order Online for pick-up:
https://www.meafordfarmersmarket.ca/
Produce, baked goods and more plus live music and activities for kids. Fresh, seasonal fruits, vegetables and herbs, premium meats, preserves, honey and maple syrup, baked goods, art & crafts. All products are from a 100km radius of Meaford.Fun activities for kids at the Children's Library Tent as well as other events for the whole family!
Stay up-to-date on their Facebook Page Meaford-Farmers-Market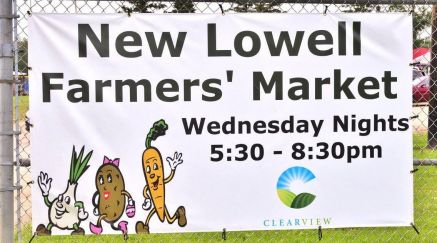 New Lowell Farmers Market
Every Wednesday from 6pm-dusk – June 6 to August 29th
New Lowell Park Pavilion | 5212 County Road 9, New Lowell
2020 Update: Currently no information available.
Join local vendors under the New Lowell Park Pavilion for fresh in season produce and other other local products.
Stay up-to-date on their Facebook page New Lowell Farmers Market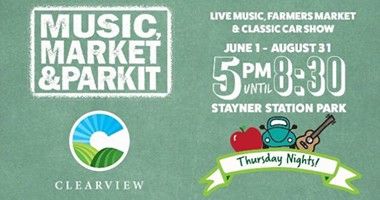 Stayner Music Market and Park It
Every Thursday from 5:30-8:30pm from first week in June to end of August.
Station Park – 7259 Highway 26
2020 Update: Currently no information available.
Classic cars, live music and over 60 vendors. Come out and enjoy locally produced and prepared foods, fruits and vegetables, homemade crafts, live local music and a car show. For more details, visit Clearview.ca and click on events.