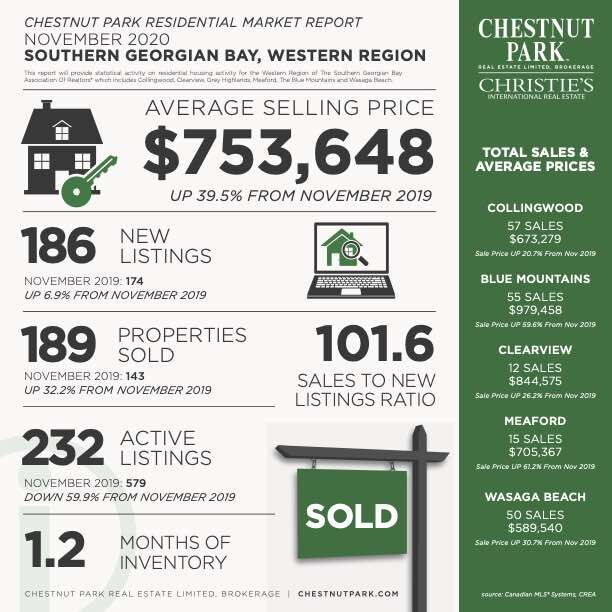 The Western Region of Southern Georgian Bay certainly did not experience the traditional slowdown that normally occurs this time of year.  As the pandemic forced many people to change their way of life over the last several months, the search for homes outside of the GTA offering more space to live, work and play has persisted. Consequently, the demand for housing continued to escalate.
In November 2020, 189 sales were reported vs 143 sales for the same period last year, boasting a 32.2 % increase year over year and even with a modest 6.9 % increase of new listings year over year; 186 new listings coming to market in November 2020 com- pared to 174 last November, it wasn't enough to meet the demand, resulting in a Sales to New Listings Ratio of 101.6.
The unrelenting demand drove active listings down 59.9 % from 579 at month's end in November 2019 to a record low of 232 in November 2020. Months of Inventory was also at a record low for November of 1.2 months, once again attesting to the historically low supply and super tight market conditions.
The average sale price in the Western Region continued to climb throughout the year and reached a record high of $753,648 in November 2020, a substantial 39.5 % increase over last year's sale price. As a result of the tight supply, strong demand and an increase in the number of sales in higher priced properties, the dollar volume for November was up 84.4 % over last year.
No one could have imagined at the onset of the pandemic in March 2020 that we would have experienced such a robust market this year. Many industry experts are suggesting that with ongoing low interest rates and a continued focus on lifestyle changes to cope with ongoing COVID restrictions, this strong momentum will carry into 2021. However, with prices continuing to rise, affordability remains the ongoing concern.